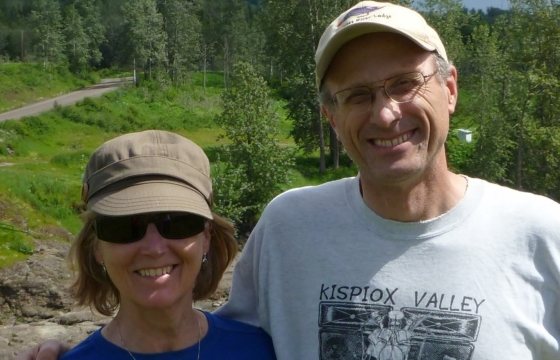 We conduct research in basic and applied plant ecology, ethnobotany, vegetation dynamics, and ecosystem renewal in the context of sustainable resource management and bio-cultural conservation.
Carla Burton B.Ed., M.Sc., Ph.D.
Carla is an ecologist and ethnobotanist familiar with the plants of western Canada, especially their traditional uses and utility in ecological restoration. She has worked with First Peoples to help document traditional uses, and has conducted restoration and reclamation research. She prepares and edits technical reports and scientific papers. Carla's publications can be found on ResearchGate, at https://www.researchgate.net/profile/Carla_Burton.
Phil Burton B.Sc., M.S., Ph.D., R.P.Bio.
Phil is a forest ecologist, currently consulting with Symbios on a part-time basis while serving as a Professor in Ecosystem Science & Management at the University of Northern British Columbia. He designs, conducts and analyzes sample surveys and experiments, especially as they relate to sustainable forest management, silviculture, ecosystem restoration and biodiversity conservation. He writes and speaks widely on issues of sustainability and socio-ecological resilience. Phil's publications are archived on ResearchGate, at https://www.researchgate.net/profile/Philip_Burton2.